Discover the kaleidoscopic animations of the 78 Arcana of the Tarot of Marseille Millennium Edition with six different prisms : pentagonal, hexagonal, heptagonal, octagonal, enneagonal and decagonal. This exclusive program presents 468 kaleidoscopic animations adjusted according to the sacred geometry of the Tarot of Marseille, presented in the book "The Sacred Code of the Tarot - The Rediscovery of the original Nature of the Tarot of Marseille" (published in French in 2011, in Portuguese in 2013, in English in 2018 and in Spanish in 2019). These exclusive kaleidoscopes constitute live mandalas which "open the Arcana", allow to penetrate their mysteries and to discover their treasures. The essential nature of the cards, being therapeutic supports producing some extraordinary energy effects, is so revealed and made perceptible by plain contemplation. Thus these kaleidoscopes allow to connect dynamically to the Arcanum and to activate its archetypal powers within ourselves, each card representing a different facet of the human experience and evolution.These kaleidoscopes so allow to approach, for the first time, the Tarot of Marseille on multiple dimensions, in an intuitive and relaxing way, with an always renewed delight.
Compatible Windows® & Mac OS®. Instruction manual in French

English

and Spanish


Vectorial program and illustrations presenting a perfect quality of display on every types of screens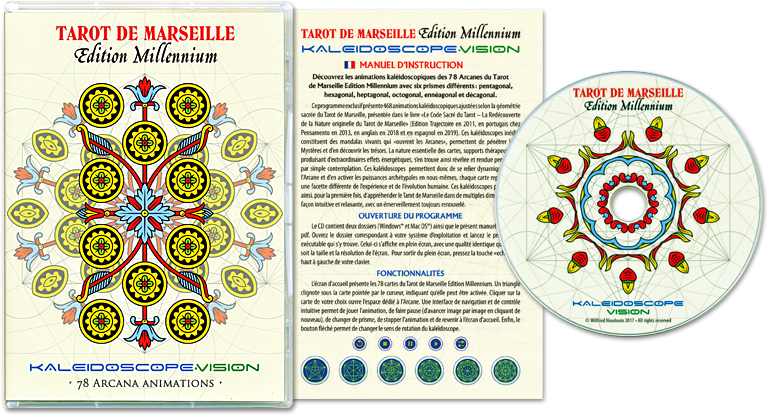 Public price: 33 € • Available on sale in the Online shop .